Why a Horserail Fence?
First, you will notice that a Horserail® fence looks like a quality horse fence should: strong, straight lines, evenly spaced rails and rich, full colors! It is as visually appealing as a "traditional" fence, but the similarities stop there.
The Fence-of-Choice of Veterinarians
Although many options are available to today's fencing consumer, observations have shown that continuous, plastic coated fence rail has the lowest reported number of injuries to animals and riders.
Because we know that owners are concerned with the health and safety of their animals, we are committed to producing and distributing the safest products possible. Our fence rail products and their attachment mechanisms are designed and time tested for safety. We provide specially designed hardware for inside mounting of the fence rail, and use new bracing techniques to keep animals and people safe. Our attachment brackets fit virtually flush with the post, so there is less chance for injury. The smooth edged, rounded design of the tensioning spooler, coupled with the flexible surface of the rail ensure a safer atmosphere.
We want our customers to rest comfortably knowing that they have provided the safest environment possible for their animals. Go ahead and check with your veterinarian – we feel confident that they will confirm our safety statement.
How Safe? These pictures show how Horserail® can flex and not hurt your horse even when its legs get tangled in the fence. Not a mark to be seen as it shakes itself off!
Beautiful, Safe and Strong!
How does it work? Horserail's® strong, smooth surface is designed to flex and slide so that if your horse would happen to run into, hit, kick or put a leg through the fence then it will bend and flex so that animal will be uninjured.
How Strong? This picture shows how Horserail® stood up to a car crashing right through the fence but it was NOT broken and the horses remain securely fenced.
Sure – You Have Options…
Comparing Horserail® to other materials used in fence manufacturing and other fence types again shows why Horserail® "Is in a class of its own!"
Similar Costs With Reduced Maintenance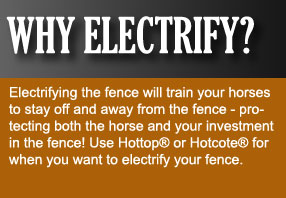 The cost of building a Horserail® fence will usually be similar to a traditional board fence.
Due to Horserail's® design and strength characteristics the fence posts can be placed further apart resulting in less money spent on posts and less time installing those posts. One of the most significant features with our product is the reduced maintenance cost, with no broken boards, no splintering, no painting or mold treatment required. Additionally, Horserail® is easy to clean.