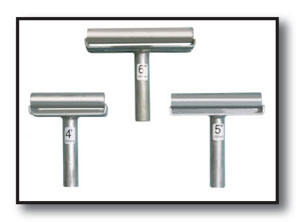 Bending Tool
For Simplicity and Neatness.
Use the Bending Tool to create the optimum shape and length for inserting rail into Buckles.
• 4.25 ̋ (108 mm), 5.25 ̋ (133 mm), and 6.25 ̋ (159 mm) sizes matching the Horserail®, Hottop® and Hottop Plus® product lines.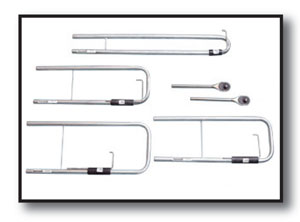 Extended Handle Ratchets
Used for an easy "One-Man" Installation Process!
Used to
tension
rail or coated wire.
• Heavy Duty Construction – Made to last and endure the day-to-day requirements of professional fence installers
• Long Handles – For better leverage and safer installation –
Comes in 2 ̋, 4 ̋, 5 ̋, and 6 ̋ sizes
Safe-T-Brace Cable Kit®
PRE-ASSEMBLED KIT • SAVES TIME • SUPER STRONG • LONG LIFE • VERY SAFE • NO ENTRAPMENT • NO PINCH-POINT • SO CONVENIENTMade from Pre-Straightened High Tensile Wire with Curved Radius On The Pre-Bend and Twisted for Superior Strength!
Kit Includes:
• Four Twisted Strand High Tensile Benzinol™* Wires [for 10′ (3m) Top Horizontal Brace]
• One Mini Spooler: (with locking pins)
• Three 1.5 ̋(40mm) Barbed Staples
* As much as 4 times the corrosion protection as Class 3 Galvanized Coating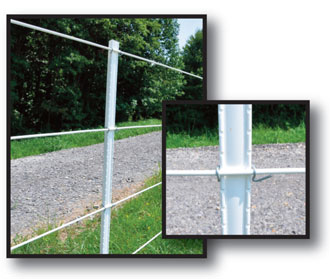 PolyPickets
Allows greater post spacing (saves money) and stops wire separation.• Available in white and black. INSET PHOTO: Clip sold separately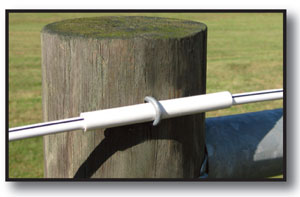 Hotcote® Insulators
The strongest insulator available, being inside the staple. Use the extra wide 2 ̋ (50 mm) barbed staples, which should be driven so they allow the wire to move.• Available in white, black and brown in 5"(125mm) length.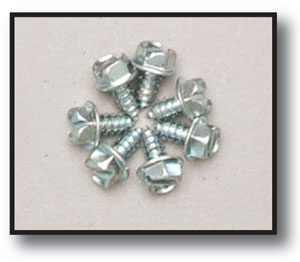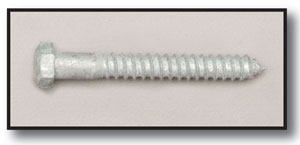 Lag Screws
• .5 ̋ (12 mm) X 4 ̋ (100 mm) Hot Dipped Galvanized
• .5 ̋ (12 mm) X 5 ̋ (125mm) Hot Dipped Galvanized
*System does not include fence posts. Visit www.horserail.com for information on proper post selection and installation.