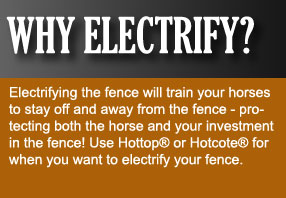 The decision whether to electrify your fence should be relatively simple. The answer will most likely be YES, for the following reasons:
• That it can be turned on or off as required – to help educate your horses.
• Our electrifiable rail (Hottop® & Hottop Plus®) and our electrifiable coated wire (Hotcote®) will allow for electricity to be introduced without degrading safety, as is usually the case with bare wires and woven tapes.
• The presence of electricity quickly rectifies annoying habits such as "cribbing", pawing and leaning, and can lessen physical abuse of the fence.
• Reduce the need for double fencing for horse separation
We know that the safety and security of your horses is your main concern. Safety is our main concern at Horserail®, as well. Our products were designed specifically to enable you to keep horses and riders as secure as possible, while maintaining a safe perimeter and fence rails that can withstand many of the extreme circumstances that may occur in climates around the world. The flexibility, strength, and quality of Horserail® brand horse safety fencing products is beyond comparison. We use highly conductive carbon strips, insulated attaching buckles, and insulator brackets to ensure that your horses are deterred from leaving their designated area without posing a fire risk or threat of early product failure.
Does the electricity present in the fence hurt my horse?
No. The electricity that contacts your horse during contact will not injure your horse. However, the jolt will be uncomfortable enough to teach your horse that the fenced area is off limits. Also, the fence material is not sharp or jagged. Horserail® electric fences are absolutely the safest and most secure method of keeping your valuable horses as safe as possible.
Typically a relatively low charge is required to keep the average horse safely contained. However, very aggressive horses/stallions may require the additional deterrence of higher voltages. Please use a UL, CSA or other approved electrical fence energizer.