Up To 30 Year Limited Manufacturer's Warranty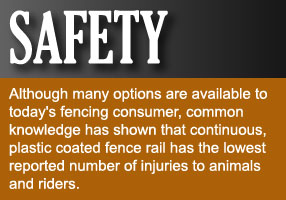 We use only premium components in the manufacturing process which allows us to offer up to a 30 Year Limited Manufacturer's Warranty*.
The Horserail® system is unique in that we have developed a number of patented features. For example the coated wire is both pre-straightened and molecularly bonded to high quality plastic. This means that it is lighter & stronger and longer lasting. The Horserail® fence system requires minimal tension to keep it straight and smooth and thereby ensuring that it is not only very flexible, minimizing the risk of injury but it stays flat, smooth and straight as a board. Further, the coated wire(s) used in our premium fence rail products is an elite 180,000-psi ASTM Class 3 galvanized quality, and because it is molecularly bonded as though the wire and plastic are welded together thereby ensuring a long lasting, good looking, low maintenance horse fence.
* NOTE: The Limited Manufacturer's Warranty covers the rail itself. It does not cover excessive animal pressure nor mechanical damage such as cribbing, reach through or use with as a feed-bunk. The use of electric with your fence system will help train your horses to stay off and away from the fence!
Below are the warranty forms in PDF format for the following products: