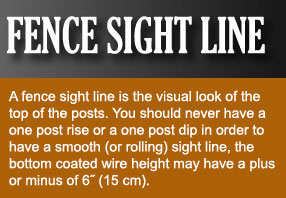 Horserail® products can fit into your budget quite well and easily, particularly when you already have existing fencing or posts installed. Our economical options are easy on your budget during the straightforward installation process. The low maintenance needs and minimal long-term costs add up to significant savings for your budget, allowing you to realize the lowest total cost of fence ownership available anywhere for a product of this high quality.
Depending on how "safe" you plan to make your property, existing fences can be used in conjunction with Horserail® products to varying degrees.
Here are a few suggestions:
• Place a Horserail®, Hottop® or Hottop Plus® rail at the top of the fence for improved visibility.
• Add a Hotcote® electric coated wire out from each side of the fence to keep horses and ponies well away from the danger posed by the plain unprotected wires (smooth HT, woven or barbed.)
• Remove all the unprotected wire and replace with Horserail® coated rail and wire. One of the benefits of Horserail® is that it is able to be placed over existing line posts as the post spacing is not critical as it is for timber rails.
Important: You can reuse line posts but you must replace all end and corner assemblies!
A properly installed Horserail®  fence allows you to spend more time with your horse and less time repairing your fences or tending to animals injured by the unsafe, un-approved electric fence energizers.
Our system has all of the components that you need to secure your horses from just about every peril that they may face while out in the enclosure. Horserail® is the economical choice whether you have existing fences or will be constructing new fences. The choice is easy!